Information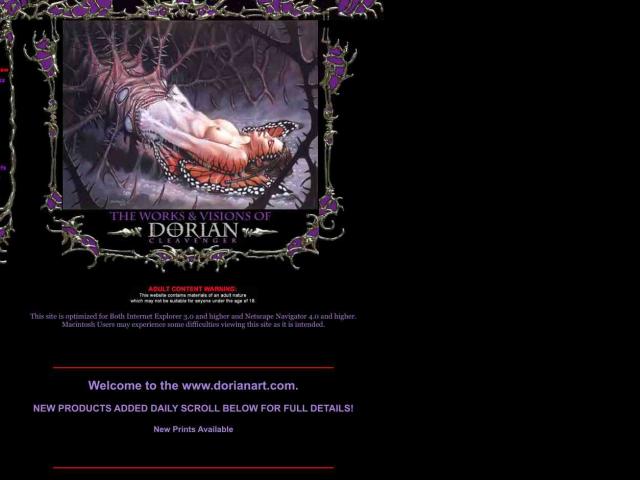 Views: 4425
Rating: 3.41
Votes: 12
Outgoing Hits: 1210
Favorites: 0
Realistic Fantasy Girls

Dorian Cleavenger burst onto the fantasy and erotica scene in the late 1990s, establishing an avid group of followers for his images of gothic horror and erotic heroes.
---
Drawing comparisons to masters such as Olivia de Berardinis, Cleavenger has quickly become recognized as a significant erotic artist.
During his school days in New Jersey, Dorian displayed an intuitive artistic gift. Inspired by science and science-fiction, he took great pleasure in creating images that combined realism with fantasy. He was and is a truly unique individual, and his career has always been marked by a quest for artistic freedom.
After high school he began studying at the Newark School of Fine and Industrial Arts. This phase of his education would last only a few weeks, however. He was dissatisfied with the scientific analysis of technique and felt underchallenged and bored. He resisted praise for his work, claiming that it came quite naturally, rather than from a deeper understanding of such artistic notions as "perspective."
He would eventually return to school at the Art Institute of Pittsburgh after spending several years working as a mechanic, automobile airbrush artists and rock musician. At the Art Institute, Dorian received several honors, awards and no small amount of praise. He became determined to follow a career in art.
The early part of this career involved freelance work for major companies in Europe and North America, including Disney and U.S. Steel. Yet he felt inhibited and unfulfilled. A comic book convention in 1997 changed all that. He saw an outlet for his imaginative art and began producing fantasy and erotic paintings at a frenzied pace.
Cleavenger actively promoted himself and his art, attending comic book conventions and approaching publishers and galleries. The hard work paid off. His talent was recognized by many major comic book publishers and he was hired to do covers, complete stories and magazine spreads. His list of credits includes Razor, Razor/Crow, Vamperotica, Books of Lore and Lady Pendragon.
His overnight success led to several immensely popular books, including The Pleasure and Pain: The Art of Dorian Cleavenger, The Works and Vision of Dorian Cleavenger and The New Works and Vision of Dorian Cleavenger. Cleavenger's work has been featured in exhibitions in major American and European cities and his original works are collected around the world. He maintains an online presence at www.dorianart.com, where he sells prints, posters and books.
Dorian's images also appear in trading card sets. For Silver Star Productions he produced erotic paintings of B-movie actresses and stars of the adult film world, including Melissa Wolf, Nina Hartley, Roxanne Michaels, Sandra Scream and Julie Strain.
Although primarily famous for his erotic works in paint, Cleavenger finds the energy for other ventures as well. He has recently worked with clay sculptures and has written, produced, directed and edited his own feature length film, titled Reunion. It would seem that few artists can rival Cleavenger in terms of pure production.
His output is famously prolific. Sometimes painting for 16 hours a day, Dorian has been known to produce 100 paintings in a single year. This level of production helped him achieve such rapid success and allows him to stay on top of the scene. He has an A-list of models on his resume, including Alley Bagget, Kate Moss, Melissa Wolfe and Julie Strain. These figures are transformed through Cleavenger's brush into fantastic goddesses.
Cleavenger has described his paintings as "pseudo-realism." He paints in a realistic manner, but his subjects are wonderful combinations of the real and fantastic. Although he paints both men and women, he is most drawn to the female form. His brand of erotic fantasy includes bondage and gothic horror, hybrid animal-female forms, futuristic mechanized nudes, vampiresses and reinterpretations of figures from Greek myth. They could almost be described as "horror pinups," presenting a hypercharged sexuality with a diabolical edge.
Dorian's paintings have drawn comparisons with several masters of the fantasy and erotic art world such as Boris Vallejo and Olivia de Berardinis. He claims these two, as well as Sorayama and Frank Frazetta, as seminal influences, but also gives a nod to Leonardo da Vinci and Sir Lawrence Alda-Tadema. Without a doubt, Cleavenger is in good company.
Having achieved immense success on the west coast, Cleavenger has returned to Pittsburgh. He has taken a position at the Douglas Education Center, where he teaches Acrylic Illustration. While imparting some of his talents to his students, he continues producing some of the best fantasy and erotic art of our day.
Major Accomplishments
fantasy illustrations for comic books including Razor, Razor/Crow, Vamperotica, Books of Lore and Lady Pendragon.
several highly popular books, including The Pleasure and Pain: The Art of Dorian Cleavenger, The Works and Vision of Dorian Cleavenger and The New Works and Vision of Dorian Cleavenger.
featured in exhibitions in major cities in North America and Europe.