Information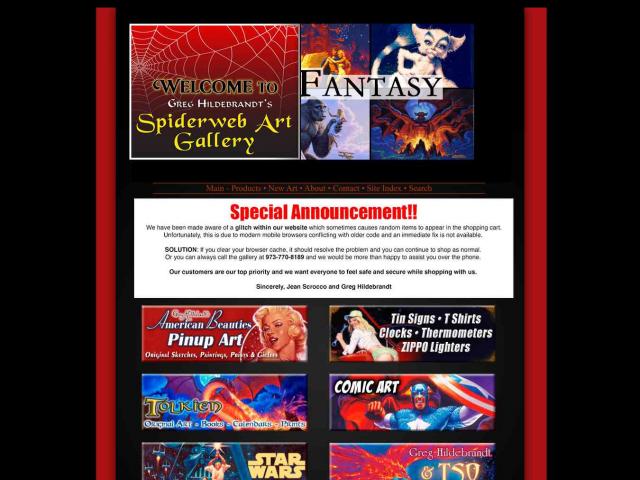 Views: 3670
Rating: 1.40
Votes: 10
Outgoing Hits: 1089
Favorites: 0
Fantasy Illustration Legend

Greg Hildebrandt achieved fame with his twin brother Tim, a team known as "the brothers Hildebrandt." Although famous for his work in advertising, book covers and illustration, Greg has proven himself in his later years as a master of pinup art.
---
Born in 1939, Greg and Tim displayed early artistic talent and were heavily influenced by early comic books and strips as well as science fiction novels, films and illustrations. Their imaginations and artistic ambitions were also propelled by dreams of working at Disney, whose animated films never faded as sources of inspiration.
After attending Meinzinger's Art School in Detroit, the brothers moved relocated to New Jersey, where they travelled around the world making documentary films for a Catholic bishop before embarking on careers as illustrators for children's books for Hold, Reinhart & Winston, among other major publishers.
Real fame in the fantasy art world came when they produced the illustrations for Ballantine's calendars based on J.R.R. Tolkien's The Lord of the Rings. The calendars were immensely popular, and this opened a great many opportunities for Greg and Tim. What followed was an extraordinary string of fantasy and sci-fi movie posters, magazines illustrations and book covers. Their poster for the 1977 film Star Wars was no less monumental than the movie itself. They also produced their own best-selling epic fantasy novel called Urshurak.
In 1981 Greg and Tim decided to follow separate paths. Greg went on to do illustrations for Omni and Heavy Metal magazines, more fantasy calendars and a variety of classic children's books. His images have been reproduced by Verkeke, one of the world's biggest poster companies. This relationship has helped Greg's art achieve widespread distribution. His works have also appeared on collector's plates, dolls, knives, swords and trading cards.
Greg's career as a pin-up artist began in 1999. In that year he started his American Beauties series. This was the fulfillment of an ambition to do erotic art that he had had since age eight, when he would sneak into his grandfather's basement to look at his pinup calendars. Inspired by the likes of Alberto Vargas and Gil Elvgren but determined to assert his own vision of pinup art, Hildebrandt began by painting Emerald Evening, depicting a red-haired stripper in a jazz bar with his friends as audience members.
In the years following, the American Beauties series of pinup art has grown and achieved considerable popularity. In 2002 the Louis Meisel Gallery in New York opened a one-man show of Hildebrandt's pinup works. From that point the world has gotten to know a different side of Greg and his art and his erotic works have inspired the dreams of countless fans.
The Art
The American Beauties images are classic 40s and 50s pinup. The subjects and settings are all reminiscent of that golden age of cheesecake in advertising, magazines and calendars. There's plenty of erotic lingerie and sultry motel nudes but also short-skirted or tight-shorted all-American girls posing by airplanes and cars or smiling in diners. Although Greg's influences are from the classic era of cheesecake, he has succeeded in putting his own stamp on the genre.
Current / Recent Activity
Hildebrandt sells his work as well as the work of other artists in the fantasy and comic genres through his website Spiderwebart. This site contains an extensive collection of images, including his pinup works, and lists Greg's upcoming appearances and events. He also maintains a fresh, clean site dedicated solely to his pinups at americanbeauties.com.
One of Greg's most interesting recent projects was a piece of work for Redlight Poker. He painted a fabulous blonde pinup in red underwear and black stockings right onto the suede surface of a poker table. The table was used for the final showdown of a seven-day poker tournament aboard a Caribbean cruise ship. He has expressed hope that this was only his first poker table work.
Greg Hildebrandt continues to work vigorously as he approaches his 70th year. With his ever-expanding American Beauties projects, he continues to express his appreciation for beautiful women and the classic pinup art that celebrates them.
Major Accomplishments
illustrations for Ballantine's The Lord of the Rings calendars.
movie posters, including Star Wars.
CD cover art, including Black Sabbath's Mob Rules.
illustrations for Magic: The Gathering collectible card game.
nominated for three Chesley Awards from the Association of Science Fiction and Fantasy Artists, including Best Cover Illustration: Magazine, and, with brother Tim, the Award for Artistic Achievement.
winner of the Golden Web award for Spiderwebart Gallery.
winner of Outstanding Creations award.