Information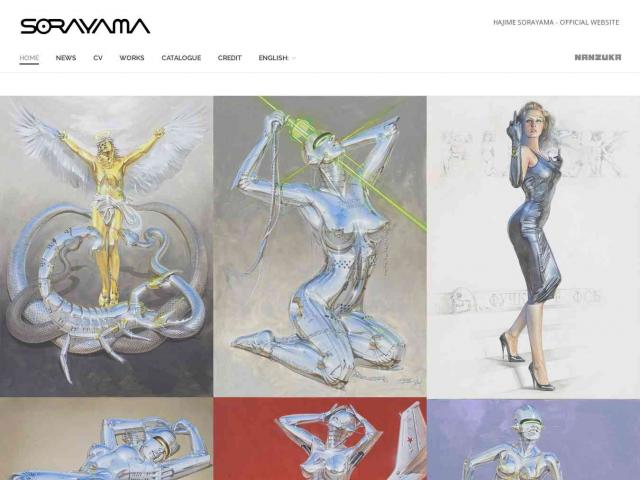 Views: 8616
Rating: 3.00
Votes: 11
Outgoing Hits: 1453
Favorites: 0
Teasing, Suggestive Attitudes

Hajime Sorayama is inarguably one of the most important erotic artists of the 20th and 21st centuries. Although the "AIBO" dog, created for Sony Corporation, is one of his claims to fame, it is his erotic paintings that are most notable.
---
Hajime's works are unmistakable as those that play with light on metallic surfaces and depict curious and sensual hybrids between the female and robotic.
Sorayama was born in 1947 in Ehime Prefecture, Japan. After high school, he briefly and disappointingly studied Greek and English at university before transferring to Tokyo's Chuo Art School, where he graduated at the age 22. He spent the following few years working in the advertising business as an illustrator and cultivating the interests that would eventually define him.
It was the voluptuous women and cheesecake images in advertising and movies that inspired Sorayama. He carefully honed his hyper-realistic style through the 70s and began applying it to paintings of robotic women. This work was truly prescient and has since spawned many imitators, none of whom have achieved the same level of sophistication as Hajime.
Hajime's first book was the monumental Sexy Robot, released in 1983. This propelled him and his metallic figures to fame. He drew directly from more traditional pin-up, showing feminine figures in suggestive or downright erotic poses. Yet he combined this with non-human robotic elements. The sexual and the technological melt together in futuristic sensuality.
He followed up his first successful book with others, including Pin-Up, Venus Odyssey, Hyper Illustrations, and The Gynoids. This last work takes the term developed by a couple of British sci-fi writers, combining the Greek terms for woman ("gyn") and image ("droid"). It was Sorayama who most masterfully painted the erotic tension of a single figure both human and mechanical.
After his first one-man show in Los Angeles in 1994, Sorayama began producing erotic images for Penthouse. An article on the artist appeared in the magazine's Silver Anniversary Edition, aptly enough. From there it was more books and work for magazines, movies, television, and trading cards. And in the late 90s his "AIBO" dog robot won several design awards and made Sorayama a name outside of the world of erotic art. His notable work also includes the artwork for Aerosmith's album Just Push Play, the design for Future Mickey and His Friends for Disney and work with Playboy TV and SexTV in Canada.
The Art
Hajime is notable for his technique, which must be extremely refined to create what many people call hyper realism. He sometimes calls this "superrealism," stating that it "deals with the technical issue of how close one can get to one's object." Sorayama does this with brush, pencil and acrylic paint. He saves the airbrush only for the final details. The resulting level of realism is virtually unparalleled in the genre.
The truly amazing thing about Sorayama's works is that they can achieve this level of realism while creating highly provocative images of spectacular imagination. This combination of the real and fantasy serves to heighten the eroticism. Although he is most famous for his signature "sexy robots," it would be a mistake to ignore Sorayama's other works. His is equally adept at more traditional pin-up, and tends towards more overtly sexual poses. There is little innocence in Sorayama's paintings.
Recent / Current Activity
Hajime Sorayama's images are firmly entrenched in the canon of erotica. He is sometimes referred to as the modern-day Vargas, which speaks to his mastery and his influence. The recent release of a DVD entitled Sorayama Secrets Revealed has provided other artists with an inside look into his superb technique, which he continues to apply in the genres of pinup and fantasy as well as his unique gynoid and robot works. In April of 2008 the World Erotic Art Museum in Miami, Florida featured an exhibition of Sorayama's art. Despite his success throughout North America and Europe, Sorayama continues to reside in Tokyo with his wife and two daughters.
Major Accomplishments
several books, including Sexy Robot, Pin-Up, Hyper Illustrations, Hyper Illustrations II, Hajime Sorayama, The Gynoids, Gynoids Reborn, Metallicon and Latex Galatea.
winner of Vargas Award.
several one-man shows in North America and Japan.
winner of Grand prize of Best Design Awards in Japan for Sony Entertainment Dog Robot "AIBO".
designed mechanical warrior for science fiction movie Space Trucker.
designed cover of Aerosmith's hit album Just Push Play.
created Future Mickey and His Friends for Disney.
special Hajime Sorayama edition of Penthouse published for the magazine's 25th anniversary.