Information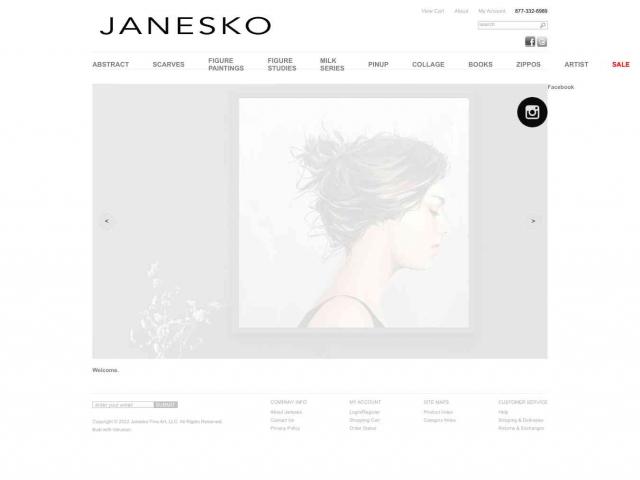 Views: 3041
Rating: 2.88
Votes: 8
Outgoing Hits: 753
Favorites: 0
Fashion and Glamour Pinup

Jennifer began drawing and painting female images at an early age. She started exhibiting sensual female paintings in Kansas City galleries after graduating from Stephens College with a Bachelor of Fine Arts degree. Her original, limited edition and poster images have captured collectors from all over the world.
---
Her images began to receive national recognition as her work sold through galleries in NYC, Las Vegas, Chicago, Laguna Beach and Kansas City. The art of Janesko gained international recognition with the launch of her official website in 1996 and the release of her first book in 2002. Playboy magazine featured illustrations by Janesko in the June 1998, March 1999, March 2000 and February 2001 issues. Janesko has been showcased in Maxim magazine, Femme Fatales, PINUP and took the cover of a Scream Queens issue. Janesko work was featured in International publications such as Desire and Skin Two of England, Marquis Fetish Images and OTO of Germany. Additional recognition has been gained through airbrush art publications, such as AIR Brush-Action, Airbrush Art + Action and Airbrush magazines. Television stations such as FOX and MSNBC have also spotlighted the artist's work. Jennifer's original art appeared in the 1994 film "Exit To Eden", directed by Gary Marshall. Recently a portrait of Janesko by artist Dru Blair appeared on the March/April 2008 cover of AIR Brush-Action.
The artist's work is a fusion of her love for pinup, fashion and glamour. High contrast and sharp direction are the two elements that form the basis of her art. The artist uses airbrush and paintbrush to create original mixed media paintings. Studies are created using a wide variety of materials including charcoal, pastel, colored pencil, watercolor, ink and graphite on various surfaces. Original paintings are currently sold through the Janesko website and various exhibitions. The artist also accepts private commissions.
Current Janesko projects include creating new original and print images. Janesko has just completed the third wine label in association with Haut Art Wines of Napa Valley. She is currently branching out in new and exciting directions with a series of images painted on guitars for GZ Guitars, Inc. The artist also has plans to teach pinup classes at the Blair School of Art in North Carolina. Future projects will feature the artist's talents and passions in the world of fashion.