Information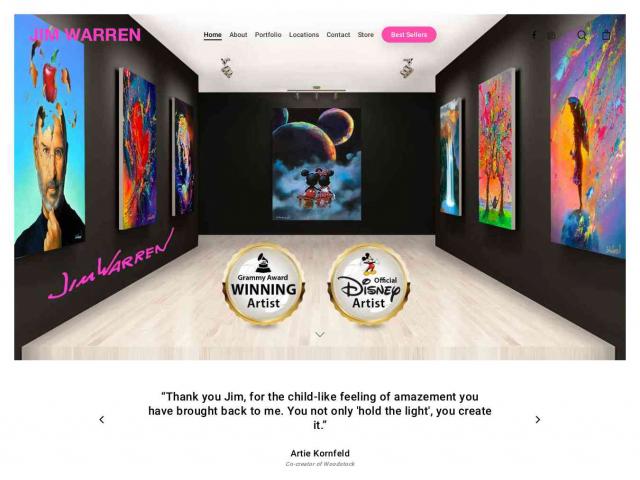 Views: 3126
Rating: 2.75
Votes: 8
Outgoing Hits: 500
Favorites: 0
Successful & Versatile Artist

Born November 24, 1949 in Long Beach, California. Jim Warren is one of the most successful & versatile artists in the world today! From the wild & whimsical to the sweet & sensuous, for over 35 years Jim Warren has been painting his way into the hearts and minds of people the world over.
---
Beginnings: Started painting at age 1, like all children. Went through the usual string of career choices such as: artist, magician, artist, rock star, artist etc. I officially decided in high school in 1967 that an artist, a "Rich and Famous" one at that, was what I was going to be!
Tools: Traditional oil paint on stretched canvas which I coat with a gesso primer. Only paintbrushes are used to paint with and NO airbrush, as people have sometimes thought.
Art Training: "I'm basically self taught. I learned some basics in my high school art class. At college I attended several life-drawing classes, and always studied the great masters at museums."
Philosophy of Art: "To hell with the rules...paint what you like."
Currently: My greatest accomplishment to date, and one that can not be matched, is the many letters and communications that I have recieved from people telling me that my art has inspired them or made their day a little brighter. Jim lives in Clearwater, FL with his wife, Cindy, daughter Drew (born in 1992) and his son, Art (born in 1994). Jim's stepdaughter, Rebecca (born in 1974) lives in California. Jim feels that maintaining a close family with a demanding career is one of his greatest accomplishments, and thanks his family for all their support and assistance. His entire family helps with his art business, doubling as Art Director, Assistant (his wife) and Models (his children).