Information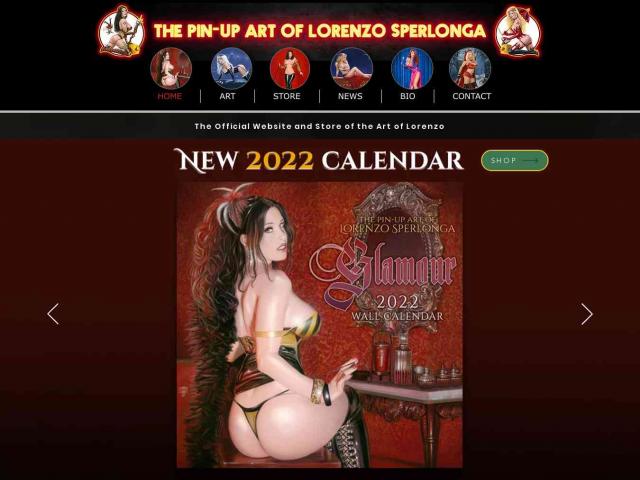 Views: 4933
Rating: 3.60
Votes: 15
Outgoing Hits: 1255
Favorites: 0
Historical Fantasy Masterpieces

Lorenzo Sperlonga is an Italian pinup artist who has achieved remarkable international success and worked with some of the biggest names in the magazine world.
---
Born in Rome, Italy in 1969, Sperlonga entered the professional art world at a very young age. At just 16 he was working as an illustrator and graphic designer for small publishers and advertising agencies in his native country. He continued to improve his techniques at the Roberto Rossellini Italian Institute for Cinematography and Television, where he studied illustration, graphic design and animation.
In the years after graduating, the artist did a variety of commercial work in advertising, interior design, animation, children's comic books and TV magazines. Throughout his education and early work, however, he had a passion for painting, particularly erotica, that didn't receive the time and energy that it deserved.
Things changed, and Sperlonga's career in pinup art began in 1994 when he did the cover for Skorpio, a major Italian comic. This led to more work in the adult comic industry, including images for Playmen Comix. The stage was set for a rather rapid series of successes. In the following year the Italian editions of Playboy and Penthouse featured his illustrations. He also travelled to Los Angeles and sowed the seeds of an extremely productive professional relationship with Kevin Eastman, publisher of Heavy Metal magazine.
It is fairly obvious what these big names in the industry saw in Sperlonga's art. His technique is superb and his depth of feeling is exquisite. He paints sultry women in a variety of themes and costumes. We find vinyl-clad temptresses, sexy nurses, warrioresses, winged sirens, and plenty of leggy goddesses in stockings. The titles are playful and fantasy-inspiring: "Room Service," "One Bad Kitty," "Dinner's Ready," "Who's Next," and "Teacher's Pets," just to name an exemplary few.
Lorenzo eventually decided that Los Angeles was the place to be and relocated there in 1998. He soon began working with Larry Flynt Publications and a variety of other publishers in the erotic genre, including Sizzle and Fort Ross. The real breakthrough, however, came when the seeds sewn with Heavy Metal sprouted and bore fruit in the form of a cover illustration in 2000. The relationship with Heavy Metal has since brought several covers, posters and calendars.
Several important books have further expanded the artist's appeal and reputation. The first of these was put out by MG Publishing and called, aptly enough, The Art of Lorenzo Sperlonga. This brought international success, and MG Publishing gave his career another boost when they asked him to paint the cover for the very first issue Artcore, a magazine dedicated to "xxxtreme erotica." Subsequent books have been published by Heavy Metal and include Dirty Works (2006) and Poison Apples (2008).
These books all show off the artist's tremendous skills in the erotic genre. Exploding with color and sensuality, Sperlonga's paintings are luscious, provocative and technically superb. Whether he's doing fantasy, sci-fi or more traditional pinup, the artist conveys a highly-charged sexuality that has unsurprisingly attracted the attention of so many publishers and fans. And his appeal is truly international, with covers appearing not only in his native Italy and his adopted United States, but also throughout South American, Eastern Europe and Australia.
His American success includes relationships with the Tamara Bane Gallery in Los Angeles and the Echo Gallery in Chicago, where his works have appeared in several exhibitions in the past few years. Both of these institutions, well-known in the world or erotic art, have helped increase Sperlonga's profile with the general public and collectors.
By no means has the artist's work been restricted to cover art and traditional illustration. His extensive resume also includes work with a Hollywood fashion company called Forplay and images for fantasy games produced by Alderac Entertainment Group and Avalanche Press. His works have bee reproduced in several formats, including hand-painted sculptures by RCI International and stickers by Go Stick It! Online distribution of his images is handled by CILM, the licensing company established and operated by Anthony Guerra.
Major Accomplishments
attended Roberto Rossellini Italian Institute for Cinematography and Television.
produced illustrations for many Italian comics.
work has appeared in a variety of major magazines, including Playboy, Penthouse, and Heavy Metal.
illustrated several covers, posters and calendars for Heavy Metal magazine.
illustrated cover for first issue of Artcore erotic art magazine.
work has been published in book form: The Art of Lorenzo Sperlonga, Dirty Works and Poison Apples.
has shown in several major exhibitions and galleries, including the Tamara Bane Gallery in Beverly Hills and the Echo Gallery in Chicago.