Information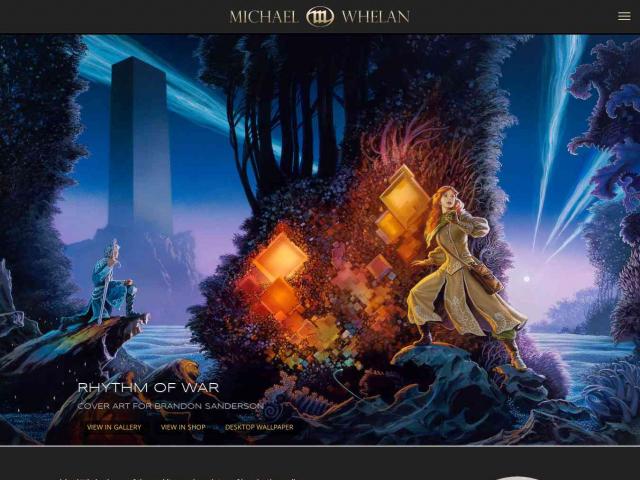 Views: 3279
Rating: 2.43
Votes: 7
Outgoing Hits: 449
Favorites: 0
Science Fiction Paintings

Michael Whelan has been interested in the imagery of the fantastic since his early childhood. Combined with a love of drawing and painting, Michael turned this fascination into a career as the premier fantasy illustrator of the last 24 years.
---
Since 1980, Michael Whelan has been one of the world's premier fantasy and science fiction artists. He is currently working full time on his fine art paintings, but in the past three decades he has created more than 350 book and album covers for authors and artists like Isaac Asimov, Anne McCaffrey, Ray Bradbury, Stephen King, the Jacksons, Sepultura, and MeatLoaf. His clients have included every major U.S. book publisher in addition to such diverse companies as National Geographic, Roadrunner Records, and The Franklin Mint. This year he had his fourth gallery show of new personal works and he was the American Artist Guest of Honor for Nippon 2007, the first World Science Fiction Convention in Japan.
A graduate of San Jose State University with a BA in Painting and a President's Scholar, Michael Whelan went on to attend the prestigious Art Center College of Design also in California, but he dropped out to accept his first book cover assignment. The most honored artist in his field, Whelan has won an unprecedented 15 Hugo Awards (Science Fiction's Oscar), 3 World Fantasy Awards, and the SuperHugo as the Best Artist of the last 50 years. The readers of LOCUS magazine (for SF insiders) have named him Best Professional Artist 26 times in their annual poll. In addition to countless Best of Show and Best Artist Awards from SF and Fantasy conventions and regional art shows, Michael was named a Grand Master by the Spectrum Annual of the Best in Contemporary Fantastic Art. His other awards include a Gold Medal from the Society of Illustrators, a Vargas Award, and a Grumbacher Gold Medal.
Michael has had 4 art books published as well as numerous limited edition prints, posters, calendars, and licensed products such as greeting cards, t-shirts and sculptures. He is a member of the Graphic Artists Guild and the Society of Illustrators in New York City, and he is an Advisor to the Masters in Fine Arts program at Western Connecticut State University in Danbury, Connecticut. In 2003 he became a member of the inaugural Advisory Board of the Science Fiction Museum and Hall of Fame in Seattle, Washington.
The stunning color and composition of Michael Whelan's illustrations and his dedication to bringing an author's words to life have brought him fans throughout the world. Now that he is devoting all his time to his own visions, he has found many new collectors in the fine art world. His "gallery" paintings of his personal work are still infused with his signature "sense of wonder," but they are rich in symbolism and offer many layers of meaning to be explored.