Information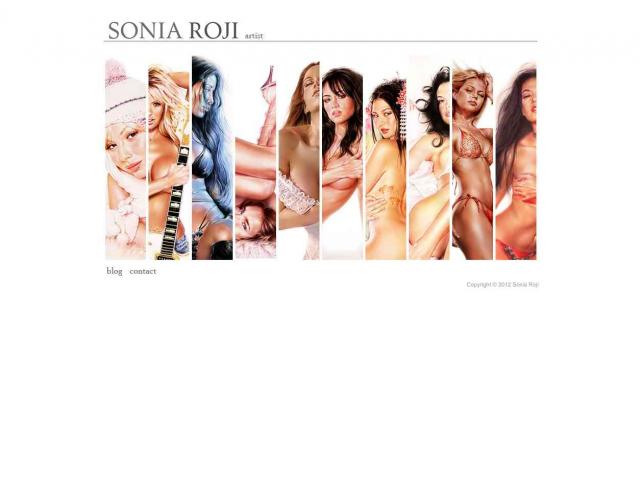 Views: 10816
Rating: 3.31
Votes: 13
Outgoing Hits: 2047
Favorites: 0
Attraction and Provocation
Sonia Roji is one of the most talented erotic artists to come out of continental Europe. Roji was born in Madrid, Spain in 1971.
---
The young Spaniard's sensuous works rival those by countryman Carlos Diez (with whom she has studied and worked) and put her in a class with other modern erotic masters such as Olivia de Berardinis and Hajime Sorayama.
Her cultured family encouraged her interest in art and she expressed her young self in a variety of media, including painting and sculpture. This family support provided the foundation for her future confidence and success, though perhaps few if any could have predicted that her career lay in eroticism.
An important event that helped shape the young artist's future was receiving two books filled with fantasy illustrations as a gift from her father. These provided enough inspiration to carry Roji to the Pena Art School in Madrid. Numerous awards for her fine art works further encouraged her, but plans to study at the Spain's School of Fine Arts were abandoned. She decided instead that she wished to delve further into the world of illustration.
After a period of self-teaching, she enrolled in the C-10 Creative Workshop run by Carlos Diez, the most prominent Spanish illustrator and one of the finest erotic artists around today. There, she was able to hone her techniques, particularly with the airbrush. The school also helped the formation of a very productive professional relationship, and the young Roji and Diez collaborated on many projects.
Her work with Diez on books and video games led her to Gen Con in 1998. There she met some of the famous fantasy artists that the convention traditionally attracts and more doors began opening for the young artist. She received commissions in a variety of genres, including magazines, books, video games and film concept design. Her skills became even more refined through this type of commission work, and eventually Roji found her way into the world of erotic art.
The artist had always drawn and painted beautiful women, but she eventually realized that there was a public hungry for provocative illustration and erotic art. Her skills were recognized by major erotic magazines in Spain, which picked up her work and expanded her influence.
Roji's pinup works are highly sensuous displays of airbrush mastery. Nude and semi-nude women with perfectly unblemished skin smile and writhe on white backgrounds. Some are stunningly realistic, while others seem to be hazy visions from erotic dreams. Her paintings show not only technical mastery, but also a very refined sense of beauty. They are sensuous, provocative and enticing.
Sonia has worked with a variety of fantastic pinup models. Her A list includes Veronika (renowned pinup model as well as operator and co-owner of the Echo Gallery in Chicago), Eve Ellis (the "Red Queen of Fetish"), Bianca Beauchamp and Taylor Lee.
Sonia eventually showed her work to Robert Bane, the well-known publisher, collector and curator of erotic art based in California. He was so impressed that he offered her a permanent exhibition in the Tamara Bane Gallery in Beverley Hills. Her work has also appeared in Chicago's famed Echo Gallery in their 2005 Heavy Metal Exhibition.
Original artwork is handled through the exclusive agency of Robert Bane, owner and operator of Tamara Bane Gallery and Robert Bane Editions, publishers of erotic and fine art. Roji has also recently signed with Stickerchick, which now handles the distribution of the artist's images to signature groups.
Sonia continues to paint, doing a variety of commissions and regularly contributing to Artcore (magazine for "xxxtreme erotica"). She is also working with a magazine called Senze, which covers the international fetish scene. Her position in the world of erotic art, not only in her native Spain but also throughout Europe and across the ocean in North America, is solid but still expanding. Her work appears in collections throughout the world.
Sonia currently lives on the rugged north coast of Spain with her husband and two cats.
Major Accomplishments
numerous awards at Pena Art School in Madrid, Spain.
collaboration with major Spanish erotic artist Carlos Diez.
permanent exhibition in Tamara Bane Gallery, Beverly Hills, CA.
work shown in Echo Gallery, Chicago, IL.
work shown in 2005 Heavy Metal Exhibition.
regular contributor to Artcore (magazine for 'xxxtreme erotica).
work with international fetishist publication Senze.
variety of commissions for books, magazines, video games, and film concept design.