Information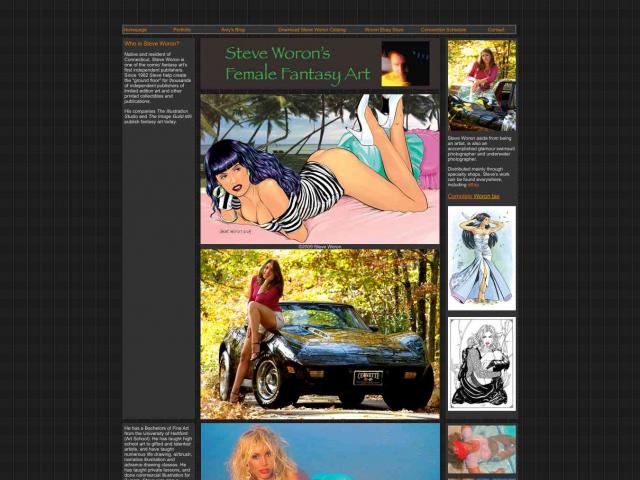 Views: 3999
Rating: 2.14
Votes: 7
Outgoing Hits: 634
Favorites: 0
Self-Published Prints and Portfolios

Steve Woron is a native and resident of Connecticut, and one of the comic/ fantasy art's first independent publishers.
---
Since 1982 Steve help create the "ground floor" for thousands of independent publishers of limited edition art and other printed collectibles and publications. His companies The Illustration Studio and The Image Guild still publish fantasy art today.
Here's a snapshot of Steve's qualifications: He has a Bachelors of Fine Art from the University of Hartford (Art School). He has taught high school art to gifted and talented artists, and have taught numerous life drawing, airbrush, narrative illustration and advance drawing classes. He has taught private lessons, and done commercial illustration for 2 years. Steve was also a "ghost artist-painter" for a famous New York commercial artist, rendering his paintings for him.
In 1982 Steve started from the ground-up one of the very first independent comic publishing companies Spectrum Comics and was art director for four titles including the Survivors which he wrote and drew. He was also the company's submissions director.
The Survivors details
In 1983 he also started his own freelance art company the Illustration Studio with 3 artists. And in 1983 he showed 2 artists how to publish there own comic- Eastman & Laird, The Teenage Mutant Ninja Turtles. In 1984 he developed a special "un-flat" coloring technique for comics. From 1984-1987 he worked for the third largest national printing company as senior creative artist.
Breaking away 1987 he began self-publishing prints and portfolios, later followed by books, more comics, notecards, photo portfolios, t-shirts, jackets, and trading cards based mainly on glamour, pin-up and vampire noir art. In fact Diamond Distributors has credited him with starting the whole-sexy "bad girl" movement, by laying the sensuous groundwork in 1987... Until then attractive sexy rendered women in comics were considered "lower art" and frowned upon. Today the sexy alluring fem fatale is the norm in publication and screen. Steve ushered in the winds of change for a whole generation.